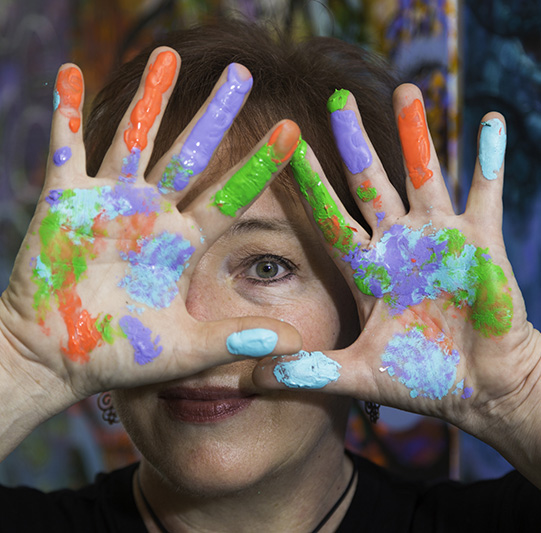 Pamela Cisneros is a painter and mixed-media artist in Charleston, South Carolina.  A self-taught artist, her vibrant works can be found in collections across the globe.  Her work is characterized by a bold use of color and striking abstract imagery, often combined with recognizable elements inspired by the natural world.
Pamela loves to travel far and wide gathering inspiration for her work, especially in the colorful, spirit-infused vibrations of places such as India and Bali. When she's not painting in her studio, she can be found walking her dog, Rumi, in the woods with her musician husband, Christopher, exploring ancient mysteries or meditating.
ARTIST STATEMENT:
Since a very early age I have always felt an unquenchable desire to create. During childhood, this included anything and everything from mud sculptures to patchwork quilts to grapevine baskets. As I have matured, I have gravitated towards acrylic painting as my primary medium because it fulfills my need to work with bright, vivid colors in a free and loose way.
I am innately energized by vivid colors, strong bold lines and interesting patterns. I make art because it feels great, not just emotionally and spiritually, but also viscerally – the buttery paint under the brush (or fingers!) is a sensory experience.
Following an intuitive model, I strive to step aside during the creative process and allow the painting to reveal itself through my hands, rather than allowing my intellect or pre-conceived ideas dictate what it should be. With this approach, the field of possibilities is endless and not limited by my finite human imagination.
My work is not intended to make any particular type of statement, to be a realistic rendering of present reality or to elicit any certain emotion in the viewer. Rather it is simply the brief capturing of an energy wave from the infinite universe of possibilities in a fleeting moment of time. My creative process is unplanned, largely intuitive and utilizes a lot of physical movement and happy accidents, yet still remains informed and inspired by the natural world and the giddy tingle I feel when certain colors combine or patterns emerge. As a result, each painting is utterly unique and can never be duplicated.